No watches are valid as of Sat Dec 7 17:51:02 UTC 2019.No Mesoscale Discussions are in effect as of Sat Dec 7 17:51:02 UTC 2019.SPC 1630Z Day 1 Outlook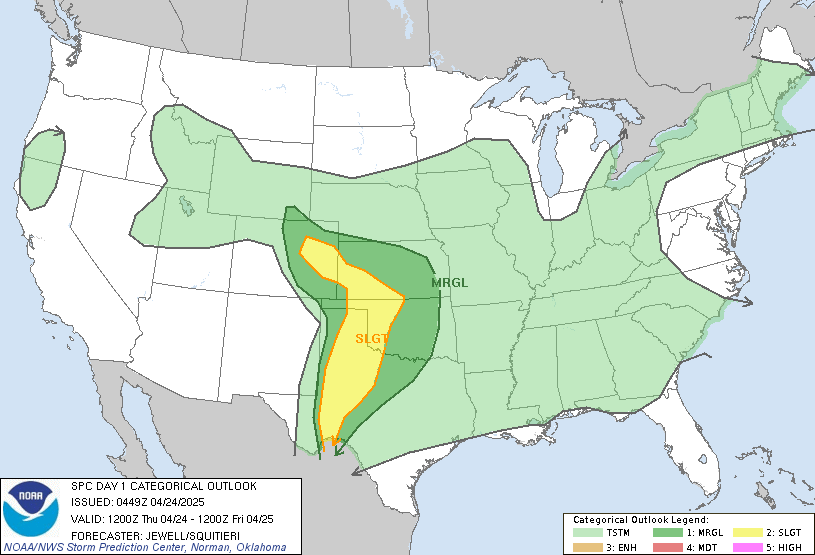 Day 1 Convective Outlook  
NWS Storm Prediction Center Norman OK
1021 AM CST Sat Dec 07 2019

Valid 071630Z - 081200Z

...THERE IS A MARGINAL RISK OF SEVERE THUNDERSTORMS OVER PORTIONS OF
NORTHERN CALIFORNIA...

...SUMMARY...
A marginal tornado threat exists this afternoon across portions of
northern California.

...Northern California...
No significant changes have been made to the ongoing forecast. 
Morning water vapor loop shows a strong upper low around 40N/129W,
with a lead shortwave trough and associated midlevel speed max
rotating toward the coast.  Numerous bands and clusters of
precipitation will continue to move onshore over this region today,
but there will also be short-lived periods of
heating/destabilization.  Despite near moist-adiabatic lapse rates
aloft, surface dewpoints in the low/mid 50s and temperatures locally
approaching 60 will result in just enough CAPE to pose a risk of a
few rotating storms.  Orographically backed low-level winds could
result in a brief tornado or two today in parts of the northern
valley.  Overall, the risk seems low and the ongoing MRGL risk
forecast seems to capture it sufficiently.

..Hart/Nauslar.. 12/07/2019


SPC 1730Z Day 2 Outlook


Day 2 Convective Outlook  
NWS Storm Prediction Center Norman OK
1107 AM CST Sat Dec 07 2019

Valid 081200Z - 091200Z

...NO SEVERE THUNDERSTORM AREAS FORECAST...

...SUMMARY...
Scattered thunderstorms are expected on Sunday over parts of the
southwestern states.

...Synopsis...
A positive-tilt upper trough will move across CA, the Great Basin,
and toward the Four Corners area, providing gradual cooling aloft
through the period. Areas of heating may provide sufficient lapse
rates near the trough for scattered thunderstorms from central CA
into southern NV and northern AZ during the day, but severe weather
is unlikely. However, very small hail cannot be ruled out as
temperatures aloft will be cold, with elongated hodographs.

To the east, a surface high over the Mid Atlantic will shift
offshore as pressures lower to the west, resulting in southerly
low-level winds and moisture return over the coastal Carolinas after
00Z. Elevated instability of several hundred J/kg MUCAPE will
develop mainly over eastern NC, with warming throughout the column.
Rain and a few thunderstorms are thus possible Sunday night in this
warm advection regime.

...MAXIMUM RISK BY HAZARD...
Tornado:  <2%     - None
Wind:     <5%     - None
Hail:     <5%     - None

..Jewell.. 12/07/2019


SPC Day 1 Fire Weather Outlook


Day 1 Fire Weather Outlook  
NWS Storm Prediction Center Norman OK
1027 AM CST Sat Dec 07 2019

Valid 071700Z - 081200Z

...NO CRITICAL AREAS...

The previous forecast remains on track. See the discussion below for
more details.

..Karstens.. 12/07/2019

.PREV DISCUSSION... /ISSUED 1158 PM CST Fri Dec 06 2019/

...Synopsis...
A positively tilted mid-level trough will progress across the
southwest CONUS, with a 50+ knot mid-level jet traversing the
Southwest into the southern Plains during the period. Elsewhere
aloft across the lower 48, relatively zonal flow is expected. High
pressure will dominate the surface pattern across the eastern half
of the CONUS, with a low pressure/lee-trough becoming established
across the southern/central High Plains, where generally
southwesterly flow is expected. Brief instances of elevated wind/RH
conditions may be achieved across portions of the southern High
Plains (mainly northeast New Mexico into southeast Colorado), but
the brevity of such conditions atop marginally receptive fuels
precludes any elevated delineations at this time.

...Please see www.spc.noaa.gov/fire for graphic product...