No watches are valid as of Sun Feb 24 04:31:01 UTC 2019.MD 0131 CONCERNING HEAVY SNOW FOR SOUTHEAST MN...CENTRAL/NORTHERN WI...WESTERN U.P. OF MI



Mesoscale Discussion 0131
NWS Storm Prediction Center Norman OK
0852 PM CST Sat Feb 23 2019

Areas affected...Southeast MN...Central/Northern WI...Western U.P.
of MI

Concerning...Heavy snow 

Valid 240252Z - 240815Z

SUMMARY...Heavy snow will become widespread across the region later
tonight. Snowfall rates of 1-2" per hour will be possible.

DISCUSSION...At 0230Z, a deepening cyclone is located over southeast
IA, with a well-defined band of heavy snow to the north and west of
the low across eastern NE/western IA into southern MN. As the
cyclone tracks northeastward, heavy snow rates will develop into
portions of central/northern WI after 03Z, and eventually into the
U.P. of Michigan after 06Z. Steep midlevel lapse rates (as observed
in 00Z OAX sounding and implied by scattered lightning activity
portions of IA/northern IL/southern WI) along the leading edge of
the dry slot and intense deep-layer ascent will continue to support
convective elements within the precipitation shield and result in
heavy snow rates of 1-2" per hour to the north and west of the
cyclone track as it moves towards the Great Lakes.

..Dean.. 02/24/2019

...Please see www.spc.noaa.gov for graphic product...

ATTN...WFO...MQT...GRB...DLH...ARX...MPX...

LAT...LON   45139279 45429233 46299081 47518787 46948731 46298723
            45578786 44868871 44518952 44239023 44099087 44109137
            44109172 44189201 44399249 44689307 45139279 


Public Severe Weather Outlook


PUBLIC SEVERE WEATHER OUTLOOK  
NWS STORM PREDICTION CENTER NORMAN OK
1025 AM CST SAT FEB 23 2019

...Severe thunderstorms expected over parts of the Lower Mississippi
Valley and Tennessee Valley this afternoon and evening...

* LOCATIONS...
  Northern and central Mississippi
  Western and middle Tennessee
  Northwest Alabama
  Southeast Arkansas
  Northeast Louisiana

* HAZARDS...
  Several tornadoes, a few intense
  Scattered damaging winds
  Isolated large hail

* SUMMARY...
  A few strong tornadoes, scattered damaging winds, and isolated
  large hail are expected, primarily through this evening across
  the Lower Mississippi Valley into the Tennessee Valley. The most
  dangerous period for tornadoes should be around 2 to 8 PM CST
  across northern Mississippi, southwest Tennessee, and far
  northwest Alabama.

Preparedness actions...

Review your severe weather safety procedures for the possibility
of dangerous weather today. Stay tuned to NOAA Weather Radio, 
weather.gov, or other media for watches and warnings. A tornado
watch means that conditions are favorable for tornadoes to form
during the next several hours. If a tornado warning is issued for
your area, move to a place of safety, ideally in a basement or
interior room on the lowest floor of a sturdy building.


SPC 0100Z Day 1 Outlook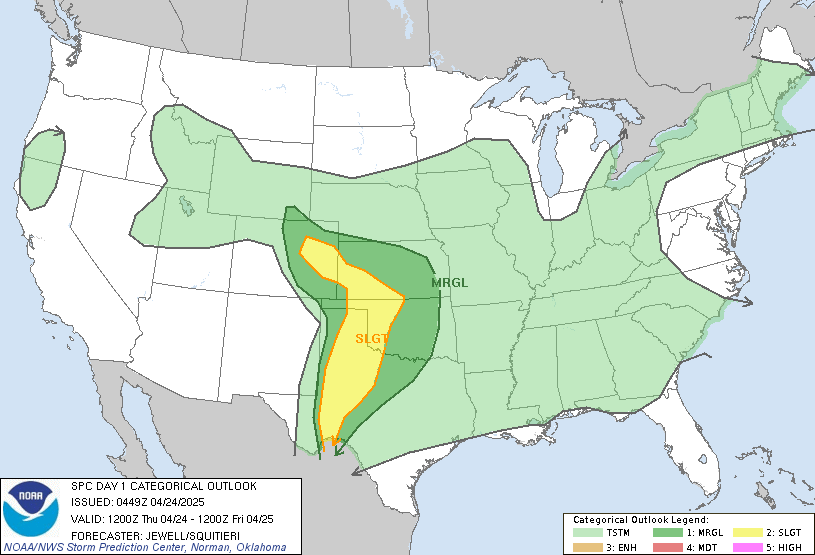 Day 1 Convective Outlook  
NWS Storm Prediction Center Norman OK
0713 PM CST Sat Feb 23 2019

Valid 240100Z - 241200Z

...THERE IS A SLIGHT RISK OF SEVERE THUNDERSTORMS ACROSS PORTIONS OF
ALABAMA...

...SUMMARY...
Risk for locally damaging winds and a tornado persists across the
Tennessee Valley vicinity.

...Tennessee Valley vicinity into the central Gulf Coast region...
Convective intensity continues to gradually wane across the risk
area, as diurnal cooling continues to yield a slow decrease in CAPE
across the region.  With favorable shear still in place across the
warm sector, some risk for a few severe storms will linger. 
However, with a pronounced wedge front as far west as Middle
Tennessee/northwest Alabama and the northern 2/3 of Georgia, the
zone where surface-based severe risk persists continues to shrink,
as the cold front advances.  

Greatest risk for a tornado or two appears to linger over
north-central Alabama, with lesser risk south/southwest across a
larger portion of Mississippi and Alabama -- over the next couple of
hours.

..Goss.. 02/24/2019