No watches are valid as of Thu Jun 1 17:54:01 UTC 2023.No Mesoscale Discussions are in effect as of Thu Jun 1 17:54:01 UTC 2023.SPC 1630Z Day 1 Outlook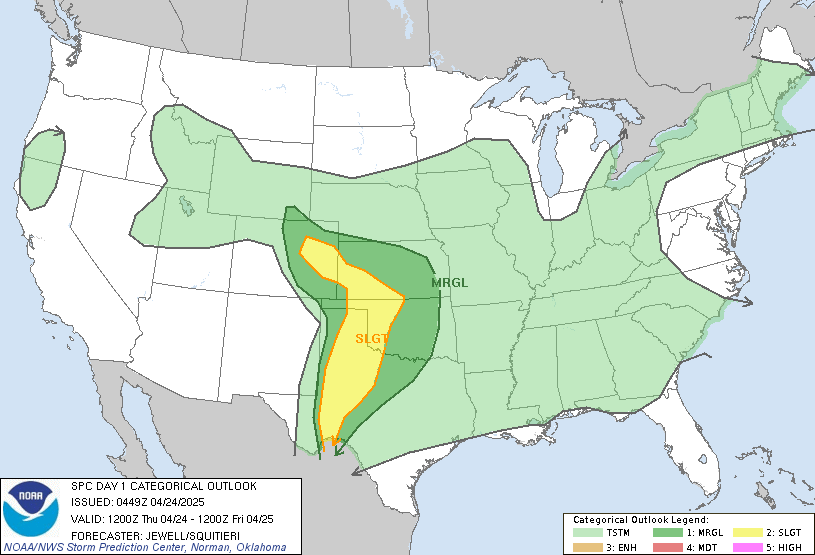 Day 1 Convective Outlook  
NWS Storm Prediction Center Norman OK
1138 AM CDT Thu Jun 01 2023

Valid 011630Z - 021200Z

...THERE IS A SLIGHT RISK OF SEVERE THUNDERSTORMS ACROSS THE
SOUTHERN HIGH PLAINS...

...SUMMARY...
Large hail along with a severe wind/tornado risk will be focused
across eastern New Mexico and west Texas this afternoon and evening.

...Southern High Plains including Eastern NM/West TX...
Key mesoscale factors for severe-weather potential later today are a
composite outflow boundary and zone of differential
heating/baroclinicity that extends roughly west-east across
southeast New Mexico and the Texas South Plains. Convection
continues to redevelop into midday and reinforce the
aggregate/primary boundary across the aforementioned corridor,
casting uncertainty/doubts on more northward-aggressive (with
respect to boundary/destabilization) guidance such as the 12z NAM. 

Regardless, satellite/surface observations and related trends imply
that ample heating will occur to the west/south of this boundary
within an air mass that continues to remain rather moist (upper-end
of daily climatological values). The strongest destabilization is
expected to occur across the Texas South Plains and far southeast
New Mexico, which is where severe potential later today is expected
to be maximized in vicinity of the modifying outflow boundary. Owing
to moderately strong mid-level southwesterly winds (and considerably
stronger high-level winds), wind profiles will be supportive of
initial supercells capable of large hail. At least some tornado
potential will be semi-focused in vicinity of the modifying
boundary, although low-level winds are not expected to be overly
strong, which should tend to limit the overall tornado likelihood
and risk magnitude. Storms may again cluster with a somewhat
localized but increasing potential for severe-caliber winds by early
evening, potentially toward parts of the Texas Low Rolling Plains.

Farther to the northwest, somewhat more modest, but potentially
severe-conducive, destabilization is expected as far northwest as
east-central/northeast New Mexico, with isolated instances of severe
hail as the most probable hazard this afternoon and early evening.

...North-central High Plains...
Isolated to scattered thunderstorms are expected this afternoon into
early evening, near the dryline/lee trough, from near I-80 northward
over the Nebraska Panhandle and eastern Wyoming toward the Black
Hills vicinity. This activity may be associated with a corridor of
relatively maximized large-scale ascent aloft, ahead of a minor
shortwave trough ejecting northward out of northern Colorado.
Although mid/upper-level lapse rates will be seasonally modest over
this region, surface dewpoints in the mid 40s to mid 50s F may
support pockets of 1000-1500 J/kg MLCAPE. Weak low-level/deep-layer
shear are forecast, but isolated instances of severe hail and/or
severe-caliber wind gusts are possible.

..Guyer/Weinman.. 06/01/2023


SPC 1730Z Day 2 Outlook


Day 2 Convective Outlook  
NWS Storm Prediction Center Norman OK
1226 PM CDT Thu Jun 01 2023

Valid 021200Z - 031200Z

...THERE IS AN ENHANCED RISK OF SEVERE THUNDERSTORMS ACROSS PARTS OF
THE TEXAS SOUTH PLAINS AND PERMIAN BASIN...

...SUMMARY...
Strong to severe thunderstorms capable of producing very large hail,
strong gusts and a couple of tornadoes are possible Friday afternoon
and evening across parts of the southern High Plains.

...Southern High Plains...
Compared to previous days, relatively limited morning convection is
currently anticipated across the southern High Plains on Friday.
This will allow for diurnal heating of a moist environment, with 60s
F dewpoints potentially reaching as far west as extreme southeast
NM. A mid/upper-level shortwave trough is forecast to move across
northern Mexico during the morning and into parts of the southern
Rockies/High Plains during the afternoon, which would be favorably
timed for scattered thunderstorm development within an unstable and
favorably sheared environment. 

Relatively steep midlevel lapse rates and favorable buoyancy (MLCAPE
of 1500-3000 J/kg) will support a conditionally favorable
environment for very large hail. The strongest deep-layer shear is
expected over portions of the TX South Plains and Permian Basin, in
association with a moderate subtropical jet, and a few intense
supercells will be possible in this region, with an attendant threat
of very large hail and localized severe gusts. Low-level shear/SRH
is expected to remain relatively modest, but will be sufficient to
support a threat of a couple of tornadoes as well. An Enhanced Risk
(level 3 of 5) has been added where the greatest risk of supercells
producing very large hail (in excess of 2 inches in diameter) is
currently anticipated. 

Severe storms will also be possible farther north into parts of the
TX Panhandle, though weaker deep-layer shear may result in a mix of
convective modes. Some upscale growth is possible with time as
storms move eastward toward the TX Big Country region, which could
increase the threat of severe gusts, though weaker shear with
eastward extent may tend to limit the organization of any
outflow-driven clusters into Friday evening. 

...Central High Plains...
Isolated strong storms will be possible into parts of the central
High Plains Friday afternoon/evening, along the northern fringe of
somewhat stronger midlevel flow/deep-layer shear associated with a
gradually weakening upper-level trough. A few organized multicells
and perhaps a supercell or two are possible, with an attendant
threat of large hail and locally strong/severe gusts. 

...Northeast...
Weak deep-layer northerly flow will persist across the region on the
eastern periphery of a Great Lakes upper anticyclone. Some modest
midlevel cooling and weak ascent associated with an approaching
shortwave trough from Quebec, in combination with relatively
favorable moisture/instability, will support isolated thunderstorms
during the afternoon. Vertical shear will remain very weak, limiting
longevity and organization of strong updrafts. Nevertheless,
relatively steep low/midlevel lapse rates could support a few strong
gusts and small hail in stronger cells.

..Dean.. 06/01/2023


SPC Day 1 Fire Weather Outlook


Day 1 Fire Weather Outlook  
NWS Storm Prediction Center Norman OK
0924 AM CDT Thu Jun 01 2023

Valid 011700Z - 021200Z

The previous forecast remains on track with only minor expansion
needed across parts of far southwest NM where ensemble guidance has
trended towards higher probability for sustained elevated
conditions. See the previous forecast for additional details.

..Moore.. 06/01/2023

.PREV DISCUSSION... /ISSUED 0126 AM CDT Thu Jun 01 2023/

...Synopsis...
Modest mid-level winds will be maintained as the Four Corners trough
moves northeast and weakens today. A weak surface trough is also
expected to develop in eastern New Mexico. These features will
combine to promote 15-20 mph winds across parts of central New
Mexico. By the afternoon, RH of 10-15% will be possible. Some
precipitation occurred on Wednesday afternoon in some portions of
central/southeastern New Mexico. While dry and windy conditions are
possible farther north and east, mitigated fuel dryness should
reduce the overall fire potential. Elevated to perhaps locally
critical conditions are expected in portions of central New Mexico.

...Please see www.spc.noaa.gov/fire for graphic product...