WW 337 SEVERE TSTM NE 152300Z - 160300Z



URGENT - IMMEDIATE BROADCAST REQUESTED
Severe Thunderstorm Watch Number 337
NWS Storm Prediction Center Norman OK
600 PM CDT Wed Aug 15 2018

The NWS Storm Prediction Center has issued a

* Severe Thunderstorm Watch for portions of 
  A small part of central and southwest Nebraska

* Effective this Wednesday evening from 600 PM until 1000 PM CDT.

* Primary threats include...
  Scattered large hail and isolated very large hail events to 2
    inches in diameter possible
  Isolated damaging wind gusts to 70 mph possible

SUMMARY...A cluster of supercells along an outflow boundary should
persist through late evening while moving southeastward.  The storm
environment will be sufficient to maintain the supercells with an
attendant threat for large hail and damaging winds.

The severe thunderstorm watch area is approximately along and 35
statute miles north and south of a line from 70 miles west of North
Platte NE to 25 miles east southeast of North Platte NE. For a
complete depiction of the watch see the associated watch outline
update (WOUS64 KWNS WOU7).

PRECAUTIONARY/PREPAREDNESS ACTIONS...

REMEMBER...A Severe Thunderstorm Watch means conditions are
favorable for severe thunderstorms in and close to the watch area.
Persons in these areas should be on the lookout for threatening
weather conditions and listen for later statements and possible
warnings. Severe thunderstorms can and occasionally do produce
tornadoes.

&&

AVIATION...A few severe thunderstorms with hail surface and aloft to
2 inches. Extreme turbulence and surface wind gusts to 60 knots. A
few cumulonimbi with maximum tops to 450. Mean storm motion vector
32020.

...Thompson


WW 0337 Status Updates



STATUS REPORT ON WW 337

THE SEVERE WEATHER THREAT CONTINUES ACROSS THE ENTIRE WATCH AREA.

..KERR..08/16/18

ATTN...WFO...LBF...


STATUS REPORT FOR WS 337 

SEVERE WEATHER THREAT CONTINUES FOR THE FOLLOWING AREAS 

NEC029-063-085-101-111-135-160240-

NE 
.    NEBRASKA COUNTIES INCLUDED ARE

CHASE                FRONTIER            HAYES               
KEITH                LINCOLN             PERKINS             


THE WATCH STATUS MESSAGE IS FOR GUIDANCE PURPOSES ONLY.  PLEASE
REFER TO WATCH COUNTY NOTIFICATION STATEMENTS FOR OFFICIAL
INFORMATION ON COUNTIES...INDEPENDENT CITIES AND MARINE ZONES
CLEARED FROM SEVERE THUNDERSTORM AND TORNADO WATCHES.


MD 1300 CONCERNING SEVERE THUNDERSTORM WATCH 337... FOR SOUTHWESTERN NEBRASKA



Mesoscale Discussion 1300
NWS Storm Prediction Center Norman OK
0759 PM CDT Wed Aug 15 2018

Areas affected...Southwestern Nebraska

Concerning...Severe Thunderstorm Watch 337...

Valid 160059Z - 160230Z

The severe weather threat for Severe Thunderstorm Watch 337
continues.

SUMMARY...Severe hail and locally strong wind gusts may remain
possible another hour or two with isolated storms approaching the
Kansas border, west through southwest of Kearney NE.  Another severe
weather watch is not anticipated.

DISCUSSION...An isolated but sustained supercell continues to track
southeast of the North Platte area, generally along and to the cool
side of a thermal gradient generated by stronger differential
surface heating and convective outflow.  Activity has been
undergoing fluctuations in intensity, but seems likely to finally
weaken as it approaches the Kansas border area (southwest of
Kearney), where the surface boundary will become increasingly
diffuse with the loss of daytime heating.

Otherwise, additional thunderstorm development might not be out of
the question back to the west/northwest of the ongoing storms, in
response to forcing associated with strengthening warm advection
associated with a weak to modest nocturnal low-level jet.  However,
it currently appears that any such activity may remain isolated with
severe hail/wind potential limited enough that another watch is not
anticipated.

..Kerr.. 08/16/2018

...Please see www.spc.noaa.gov for graphic product...

ATTN...WFO...GID...LBF...GLD...

LAT...LON   40949989 40709926 40339898 40079975 40200099 41180219
            41750239 42080147 41939999 41350005 40949989 


SPC 0100Z Day 1 Outlook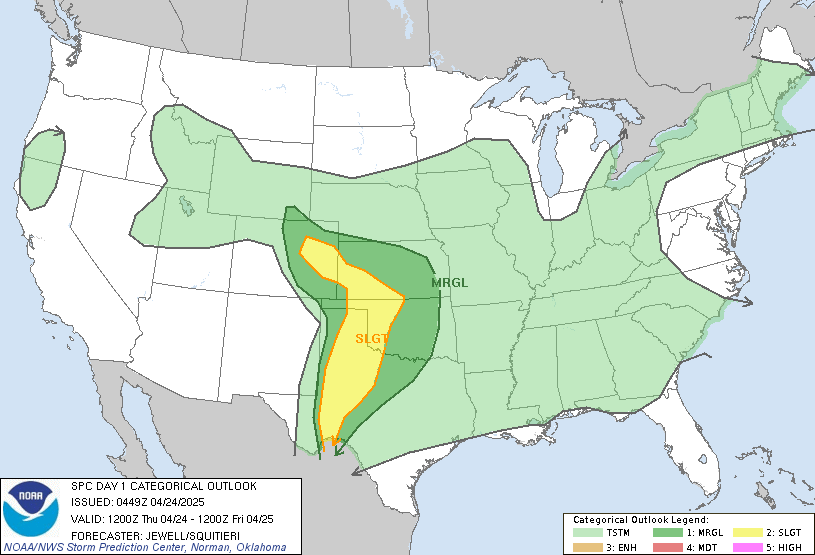 Day 1 Convective Outlook  
NWS Storm Prediction Center Norman OK
0801 PM CDT Wed Aug 15 2018

Valid 160100Z - 161200Z

...THERE IS A SLIGHT RISK OF SEVERE THUNDERSTORMS ACROSS PORTIONS OF
CENTRAL AND SOUTHERN NEBRASKA...

...SUMMARY...
Isolated strong to severe storms may continue across parts of
central and southern Nebraska for a few more hours this evening.
Large hail and damaging wind gusts are possible with these storms.
Additional storms may produce gusty winds across northern Kentucky
into southeast Indiana.

...Nebraska...

Strong to severe storms will continue across eastern portions of WW
337. The supercell over Lincoln County weakened after storm
interactions near LBF but has since re-intensified. 00z RAOB from
LBF shows favorable CAPE/shear environment for sustaining this
activity as it tracks southeast. Shear does decrease with
southeastward extent and as boundary layer stabilization ensues,
threat should diminish after 03z. Additional strong storms across
central NE may produce some gusty winds and hail but overall
weakening trend will ensue in tandem with convection further south.

...Kentucky/Indiana...

Strong storms may continue for a short time this evening, mainly
producing gusty winds. The line of storms moving across southern IN
and north-central KY has shown a decrease in reflectivity cores and
in lightning activity over the last 30-60 min and a weakening trend
should continue with eastward extent. Obs sites at SDF and LOU
measured a 46kt and 35kt peak wind gust, respectively. Weakening has
since ensued but some gusty winds may persist another 1-2 hours.

..Leitman.. 08/16/2018