No watches are valid as of Fri Jul 30 06:10:02 UTC 2021.No Mesoscale Discussions are in effect as of Fri Jul 30 06:10:02 UTC 2021.SPC 1200Z Day 1 Outlook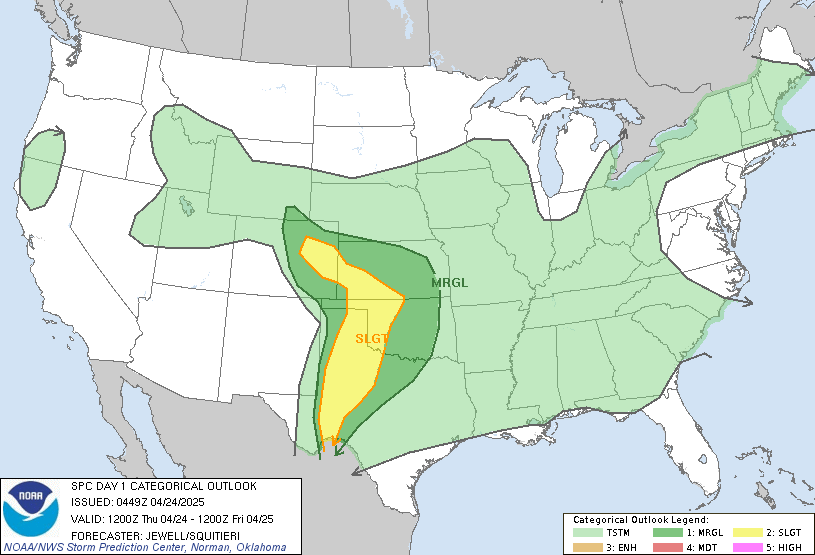 Day 1 Convective Outlook  
NWS Storm Prediction Center Norman OK
0100 AM CDT Fri Jul 30 2021

Valid 301200Z - 311200Z

...THERE IS A SLIGHT RISK OF SEVERE THUNDERSTORMS FROM A PORTION OF
THE CENTRAL PLAINS INTO THE MIDDLE MISSISSIPPI VALLEY REGION...

...SUMMARY...
Thunderstorms with severe gusts are possible Friday afternoon into
the evening across parts of Nebraska, Iowa and northern Missouri. A
few storms might also produce strong gusts over a portion of the
Carolinas.

...Central Plains into the Middle Mississippi Valley region...

Stationary front now situated near the NE/KS border may move north
as a warm front today and become situated from central NE southeast
through central MO Friday afternoon and evening. Rich low-level
moisture with near 70F dewpoints will persist in the vicinity of
this boundary, and diabatic heating of the surface layer is expected
in the warm sector to the south. Cluster of storms currently over
northeast WY will persist into the early morning and likely be
situated across southern SD by 12Z. These storms are associated with
a vorticity maximum moving through the northern periphery of an
upper ridge, and this activity will spread southeast through IA
during the day. Modest inflow from the destabilizing warm sector
might result in some intensification of ongoing storms. Additional
storms may also develop within the corridor of isentropic ascent
along and north of the warm front. While most of these storms might
initially be slightly elevated, they may eventually become rooted
near the surface. Effective bulk shear from 35-40 kt will support
potential for organization with any surface-based updrafts. Some
CAMs indicate activity might evolve into a forward-propagating MCS
that will continue southeast along the instability gradient
supported by a strengthening nocturnal southwesterly low level jet.
Damaging wind will be the primary threat.  

...Carolinas...

A cold front will move southeast into the central and eastern
Carolinas later this afternoon. The pre-frontal warm sector is
expected to become moderately unstable with 2000-3000 J/kg MLCAPE
supported by diabatic heating of the moist surface layer. Warm
mid-level temperatures will result in weak lapse rates in the
850-500 mb layer. WV imagery also shows a reservoir of relatively
dry air between 700-500 mb that will spread southeast into this
region. While thunderstorms will likely initiate along the front
during afternoon peak heating, the expected relatively warm air
aloft and poor lapse rates, along with weak to modest vertical shear
will limit overall updraft strength. Nevertheless, some storms may
become capable of producing isolated downbursts as they spread
southeast during the afternoon into the early evening, before
weakening as the boundary layer stabilizes.

..Dial/Moore.. 07/30/2021


SPC 0600Z Day 2 Outlook


Day 2 Convective Outlook  
NWS Storm Prediction Center Norman OK
1243 AM CDT Fri Jul 30 2021

Valid 311200Z - 011200Z

...THERE IS A MARGINAL RISK OF SEVERE THUNDERSTORMS FROM EASTERN
KANSAS ACROSS MISSOURI AND INTO WESTERN KENTUCKY...AND CENTERED OVER
WISCONSIN...

...SUMMARY...
Marginally severe thunderstorms will be possible Saturday centered
over Missouri and Wisconsin.

...Synopsis...
A broad region of cyclonic flow aloft will remain over the
northeastern quarter of the CONUS, with various embedded waves. One
wave will move across the mid MS Valley during the day and
east/southeastward into the OH Valley by 00Z. Meanwhile, a weak
surface low will move from eastern KS into southern MO, with a cold
front moving south across KS and MO. Eastern portions of the front
will become stationary, or perhaps a slow-moving warm front into the
lower OH Valley.

To the north, heights will fall across the upper MS Valley and Great
Lakes as a midlevel jet noses southward across the Arrowhead of MN
and into WI overnight. A weak surface trough will be present, along
with sufficient moisture to support storms after 21Z from the MN/WI
border toward Lake MI.

Elsewhere, an upper ridge will extend from the Four Corners
northwestward into British Columbia, with scattered daytime storms
beneath.

...MO and Vicinity...
Scattered storms, possibly an MCS, are likely to be ongoing anywhere
from IA into northern MO, and perhaps western IL Saturday morning,
aided by warm/moist advection with 30+ kt west/southwest 850 mb
winds. While potential outflow may push south across MO during the
day, a slow-moving warm front may develop east of any ongoing
activity toward the OH Valley. 

Depending on initial storm coverage and intensity, some of the early
activity may persist during the day, with mainly gust potential.
Otherwise, an unstable air mass will develop south of the
front/outflow boundary, with heating and 70s F dewpoints resulting
in tall CAPE profiles and MLCAPE at or above 3000 J/kg.
West/southwest low-level winds will favor redevelopment, but degree
of organization is uncertain and will depend on the early day
activity. Given the strong MLCAPE, a few cores may produce marginal
hail, although deep-layer shear will not be very strong. Low-level
shear may prove sufficient for mesocyclones from southeast MO into
the lower OH Valley, conditional on storm mode.

...WI and Vicinity...
Lapse rates will steepen throughout the day with weak surface
convergence and low 60s F dewpoints. MLCAPE up to 1000 J/kg may
develop, beneath northwest flow aloft. Scattered storms are forecast
after 21Z from eastern MN across WI and into Lower MI, with around
40 kt deep-layer shear. This may favor cellular storm mode capable
of marginal hail or wind gusts. Activity will likely dwindle between
03Z-06Z as the air mass stabilizes and northwest winds bring in
drier air.

..Jewell.. 07/30/2021


SPC Day 1 Fire Weather Outlook


Day 1 Fire Weather Outlook  
NWS Storm Prediction Center Norman OK
1253 AM CDT Fri Jul 30 2021

Valid 301200Z - 311200Z

...Synopsis...
Early morning water-vapor imagery reveals a weak upper-level impulse
over the Great Basin that is providing sufficient lift for scattered
monsoonal thunderstorms over parts of the Intermountain West. This
feature will gradually shift north over the next 24 hours on the
western periphery of a persistent ridge. While this feature will
yield a nebulous surface pressure pattern and weak winds, it will
maintain thunderstorm chances across much of the West, including
areas of the Pacific Northwest where fuels have largely struggled to
recover despite a modest influx of monsoonal moisture.

...Pacific Northwest...
Isolated thunderstorms, already ongoing across parts of
south-central OR, are expected to increase in coverage through the
mid to late afternoon from the West Coast into central ID and far
southwest MT. A northward flux of mid-level moisture will maintain
PWAT values above 0.75 inches, but dry boundary layers on the
periphery of the deeper moisture (as sampled by the 00z MFR and BOI
soundings) may limit rainfall amounts at the surface to isolated
cores. Although several surface stations have reported wetting
rainfall over the past few days, recent fuel reports from the region
indicate that dry fuels are slow to respond to the recent moisture
and are still promoting active fire behavior. The combination of
wet/dry thunderstorm chances and dry fuels supports the isolated
dry-thunderstorm risk. A few dry lightning strikes are possible as
far northeast as north-central MT, but a combination of weaker
forcing for ascent (and hence less confidence in coverage) as well
as slightly improved boundary-layer RH precludes an expansion into
this region.

..Moore.. 07/30/2021

...Please see www.spc.noaa.gov/fire for graphic product...