No watches are valid as of Tue Apr 23 16:36:01 UTC 2019.No Mesoscale Discussions are in effect as of Tue Apr 23 16:36:01 UTC 2019.SPC 1300Z Day 1 Outlook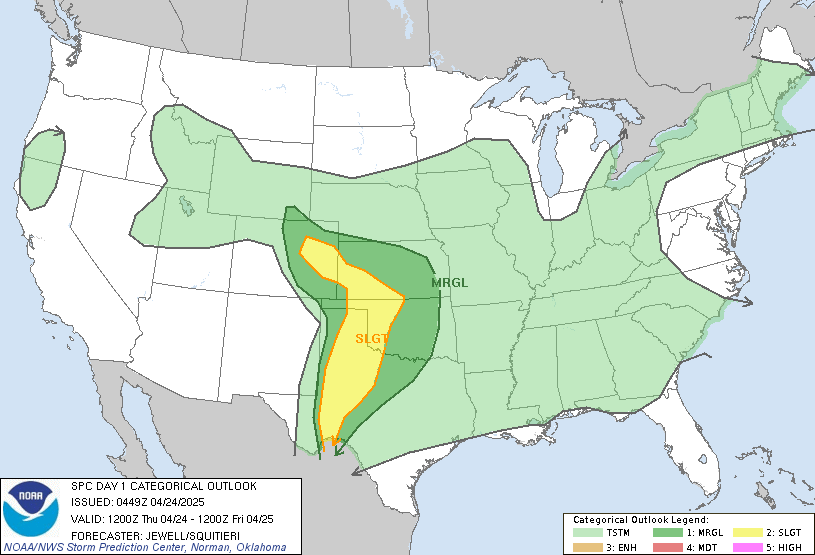 Day 1 Convective Outlook  
NWS Storm Prediction Center Norman OK
0750 AM CDT Tue Apr 23 2019

Valid 231300Z - 241200Z

...THERE IS A SLIGHT RISK OF SEVERE THUNDERSTORMS ACROSS FAR
SOUTHEAST NM AND A LARGE PART OF SOUTHWEST INTO CENTRAL TEXAS...

...SUMMARY...
Severe thunderstorms capable of producing isolated large hail and
severe gusts are expected across parts of southeast New Mexico and
Texas this afternoon and evening.

...Southern High Plains and vicinity...
An increasingly low-latitude upper low will continue to dig
southward over northwest Mexico through tonight. Scattered showers
and thunderstorms will continue early today along and north of a
southwest/northeast-oriented front located from southwest Texas into
south-central Oklahoma this morning. Partially aided by the
reinforcement of this convection/outflow, the front will continue a
general southward progression.  

Marginally moist southeast low-level flow (surface dewpoints ranging
from the 50s west to 60s east) will contribute to moderate buoyancy
along/south of the front this afternoon, aided by elevated-mixed
layer reinforcement especially over far southeast New
Mexico/southwest Texas as mid-level winds intensify off the higher
terrain later today. After early morning cloud debris lessens,
surface-based storm development is expected by late afternoon
coincident with diurnal heating. Adequate effective shear for
storm-scale organization will support supercells and organized
clusters with the stronger updrafts. Large hail and severe gusts
appear to be the primary severe hazards, including some potential
for larger diameter hailstones especially across southwest Texas. A
gradual weakening in storm intensity is expected by mid-to late
evening as cold pool conglomeration and diminishing surface-based
instability spatially reduce the area for severe storms.

...Mid/upper Ohio Valley including Kentucky to Pennsylvania...
Narrowly spaced dual shortwave troughs over northern Ontario and
Lower Michigan early today will spread generally eastward as they
phase, influencing the region this afternoon and evening. Increasing
forcing for ascent coincident with peak heating will contribute to
increasing thunderstorm development through mid/late afternoon near
an eastward-progressing cold front. A belt of stronger mid- to
high-level flow will overspread mid/upper 50s F dewpoints and
contribute to weak buoyancy (500-100 J/kg MLCAPE) by afternoon near
and just ahead of the front. A few strong storms will be possible
and a few strong/locally damaging wind gusts and small hail could
accompany the stronger cells through early evening.

..Guyer/Mosier.. 04/23/2019


SPC 1630Z Day 1 Outlook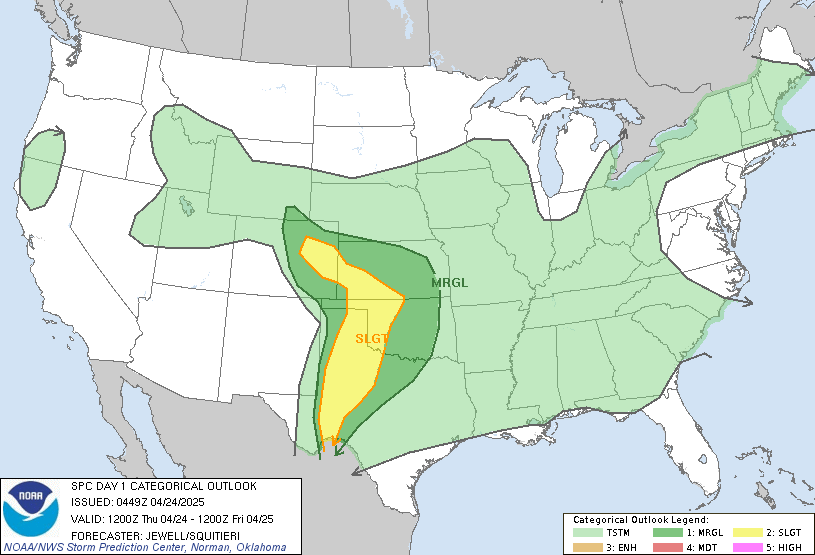 Day 1 Convective Outlook  
NWS Storm Prediction Center Norman OK
1125 AM CDT Tue Apr 23 2019

Valid 231630Z - 241200Z

...THERE IS A SLIGHT RISK OF SEVERE THUNDERSTORMS THIS AFTERNOON
INTO EARLY TONIGHT ACROSS PARTS OF SOUTHWEST AND CENTRAL TX...

...SUMMARY...
Severe thunderstorms capable of producing isolated very large hail
and severe gusts are expected across parts of southwest and central
Texas this afternoon into early tonight.

...Southwest and central TX through tonight...
A midlevel low will continue to drift east-southeastward over
northwest Mexico, maintaining southwesterly flow aloft over
southwest and central TX.  At the surface, a cold front will move
slowly southeastward while being reinforced by occasional convective
clusters along the boundary.  South of the front, breaks in the low
clouds by this afternoon will allow surface temperatures to warm to
78-82 F with boundary-layer dewpoints in the low-mid 60s.  This,
combined with midlevel lapse rates greater than 7.5 C/km, will
support MLCAPE near 2000 J/kg and weakening convective inhibition.

Scattered thunderstorms are expected to persist today along the
slow-moving cold front, with additional (more isolated) storm
development possible south of the front later this afternoon, 
potentially focused on the higher terrain west of Fort Stockton-Del
Rio.  The moderate buoyancy/steep lapse rates plus strong deep-layer
vertical shear and long hodographs will favor splitting supercells
capable of producing isolated very large hail and damaging winds
this afternoon/evening.  Overnight, storms will again persist as
clusters on the immediate cool side of the boundary, fed by an
increase in low-level southerly flow atop the frontal surface.

...Eastern OK to southwest MO this afternoon...
An MCV from overnight convection is moving northeastward over
northeast OK/southeast KS.  The trailing lobe of this MCV extends
southeastward to the surface front, where surface heating will
contribute to moderate buoyancy (MLCAPE near 1000 J/kg) this
afternoon.  A few storms could form and move northeastward along the
boundary this afternoon, with enough enhancement of deep-layer
vertical shear for organized multicell clusters and/or marginal
supercells.  Isolated damaging gusts and marginally severe hail will
be the main threats.

...Southern OH to western PA this afternoon...
A midlevel shortwave trough and associated surface cold front will
progress eastward across the upper OH Valley and lower Great Lakes
this afternoon.  Modest low-level moisture and surface heating in
cloud breaks will drive weak surface-based buoyancy in a narrow band
ahead of the front.  Isolated thunderstorms are expected in the zone
of ascent along and immediately preceding the boundary. A corridor
of 40-50 kt westerly midlevel flow will favor marginal supercells
and/or short line segments capable of producing isolated damaging
gusts.

..Thompson/Squitieri.. 04/23/2019


SPC Day 1 Fire Weather Outlook


Day 1 Fire Weather Outlook  
NWS Storm Prediction Center Norman OK
0949 AM CDT Tue Apr 23 2019

Valid 231700Z - 241200Z

...NO CRITICAL AREAS...

No changes are necessary and please see the discussion below for
more details.

..Nauslar.. 04/23/2019

.PREV DISCUSSION... /ISSUED 0108 AM CDT Tue Apr 23 2019/

...Synopsis...
An upper-level low located over the Desert Southwest will shift
east-southeast throughout the day into portions of northern Mexico.
Meanwhile, a mid-level shortwave trough will traverse the Great
Lakes region into portions of the Northeast, with zonal flow
paralleling the U.S./Canadian border farther west. 

At the surface, high pressure will settle into the Great Basin and
central/northern Plains, with a stationary front extending from the
Southern Plains to the Ohio Valley. With high pressure into the
Great Basin, some light offshore flow is possible this morning
across portions of Southern California, with warm/dry conditions
developing during the afternoon. However, winds should remain light
during both episodes. Farther north, across the Northern Rockies
into the Dakotas, breezy west-northwesterly winds should develop
during the afternoon due to vertical mixing of enhanced mid-level
flow, however, RH values should remain above critical values to go
along with marginally receptive fuels in this region. Elsewhere the
fire-weather potential remains low, thus no highlights have been
introduced at this time.

...Please see www.spc.noaa.gov/fire for graphic product...