No watches are valid as of Thu Apr 22 22:38:02 UTC 2021.No Mesoscale Discussions are in effect as of Thu Apr 22 22:38:02 UTC 2021.SPC 2000Z Day 1 Outlook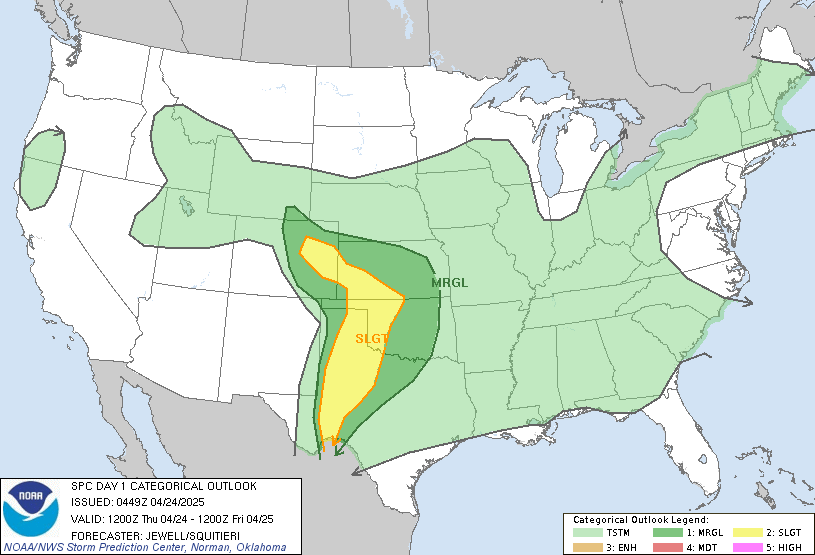 Day 1 Convective Outlook  
NWS Storm Prediction Center Norman OK
0228 PM CDT Thu Apr 22 2021

Valid 222000Z - 231200Z

...NO SEVERE THUNDERSTORM AREAS FORECAST...

...SUMMARY...
Severe thunderstorms are not expected across the contiguous U.S.
through tonight.

...Discussion...
No changes to the ongoing outlook are required at this time.

..Goss.. 04/22/2021

.PREV DISCUSSION... /ISSUED 1122 AM CDT Thu Apr 22 2021/

...Discussion...
While severe thunderstorms are not expected, several corridors of
relatively isolated thunderstorm potential are forecast today and
tonight. A progressive split-flow pattern will prevail over the
CONUS and nearby Canada/northern Mexico into early Friday. Dual
shortwave troughs, one in the northern stream and the other in the
southern stream, will influence thunderstorm potential across the
northern Rockies and Four Corners area mainly this afternoon/early
evening. Elsewhere, owing to increasing warm/moist advection,
isolated elevated thunderstorms may develop late tonight/early
Friday across south-central/southeast Kansas and northern Oklahoma.
Mid-level capping is otherwise expected to prevail and likely
preclude thunderstorm development across the remainder of the
southern Plains through 12Z Friday.


SPC Day 2 Fire Weather Outlook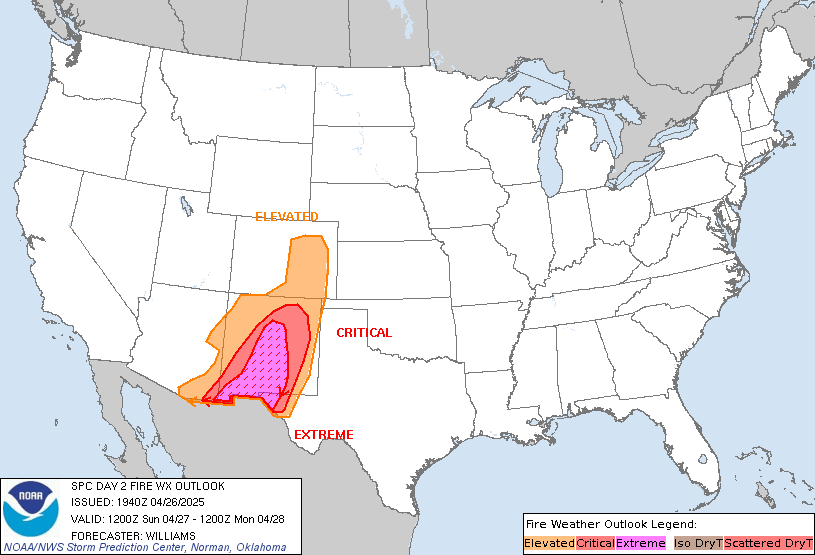 Day 2 Fire Weather Outlook  
NWS Storm Prediction Center Norman OK
0216 PM CDT Thu Apr 22 2021

Valid 231200Z - 241200Z

...CRITICAL FIRE WEATHER AREA FOR NORTHEASTERN ARIZONA INTO THE
SOUTHERN HIGH PLAINS...

...Southwest...southern High Plains...
The forecast generally remains on track. The primary area of concern
for critical fire weather will be parts of the Trans-Pecos into the
South Plains as the mid-level winds will be stronger in these areas.
The Trans-Pecos has seen ERC values dip below normal, though 5-15%
RH and winds of 25-30 mph will tend to compensate. The overall
magnitude of critical conditions is somewhat uncertain in New
Mexico. An increase in mid-level moisture will likely lead to broad
areas of cumulus build-ups and isolated thunderstorms in the higher
terrain. How much this will affect lower elevation RH, where fuels
are more receptive, is not clear enough for a change in the
categorical forecast.

...Mid-Atlantic...southern New England...
With today's surface conditions reaching near-elevated to elevated
in some locations, there is some possibility that tomorrow will see
similar conditions, though likely with less cloud cover/higher
temperatures. There are fuels questions given rainfall on Wednesday.
At present, the greatest potential for sustained elevated conditions
is in portions of New Jersey where EACC shows relatively more
receptive fuels than nearby locations.

..Wendt.. 04/22/2021

.PREV DISCUSSION... /ISSUED 1203 AM CDT Thu Apr 22 2021/

...Synopsis...
On Friday, a surface low is forecast to slowly drift from southeast
Colorado into the Texas Panhandle while slowly deepening. This will
tighten the pressure gradient and increase wind speeds across much
of the Southwest and southern Plains. The strongest winds are
forecast from northern Arizona across New Mexico and into Southwest
Texas where deep mixing is forecast to bring stronger mid-level flow
to the surface. Wind speeds in this region are expected to be 20 to
30 mph with relative humidity from 10 to 15 percent. Fuel dryness
will vary across the region with more moist fuels at higher
elevations. However, at least some fuels are cured sufficiently to
carry fire as seen by numerous smoke plumes observed on visible
satellite over the past week.

...Please see www.spc.noaa.gov/fire for graphic product...