Placerville, CA. WASP2 Lightning/Rainfall Detection Radar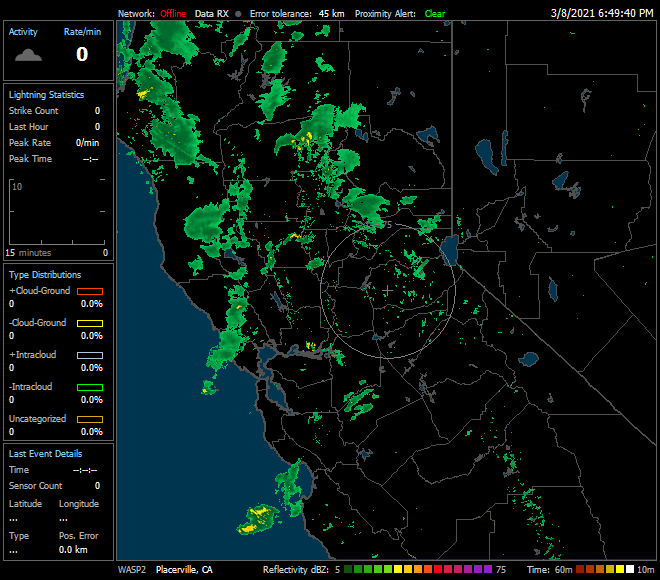 Even though the above radar image, as well as our animated version look very similar to the main station page for Placerville Ca. lightning radar besides of course that it's black, there is actually quite a big difference. The above Wasp2 ( Wide Area Storm Probe 2 ) image is connected to, and a part of the National StrikeStar Lightning Network as are all Wasp2 pages on this site. The Wasp2 stations are always black.

This Wasp2 lightning strikes network is linked together so that individual lightning strikes stations triangulate their data in conjuction with eachother. Thus improving the accuracy of lightning strike locations. Many stations in the network are now in the process of installing GPS capability to greatly enhance the accuracy of triangulating lightning strike locations. The Placerville station is ready to install GPS, it should be installed within a few weeks.

Lightning strike activity is detected by different Boltek radar sensors belonging to the StrikeStar lightning stike network and is sent over the Internet to a central processing server which triangulates all of the strike data onto the above image. Hense resulting in much more accuracy to the far away locations.
Legend of Local Regional & U.S. Lightning Detection Maps